Re-entry planning: Keeping our community and campuses safe
At times, it felt like many things slowed down as the COVID-19 pandemic took its hold on the world. But at Red River College, we've been moving faster than ever.
In March, College employees and students continued to teach, work and learn on campus until public health authorities directed large organizations – including colleges and universities – to transition to remote work and virtual learning. This direction was given to reduce mass gatherings to help reduce the transmission of COVID-19.
Post-secondary institutions are mass gatherings by design, so it was important for the College to take quick action so we could continue to support the delivery of our programs while keeping everyone's safety top priority.
Working together
As early as December, the College started taking steps to prepare for COVID-19 by activating its Emergency Operations Centre and Incident Management Team – a group made up of representatives from academic and non-academic areas who focus on ensuring our campuses are safe for employees, students, and the College community.
Since then, this team has coordinated our response to the virus. These early steps guided our initial response to the pandemic and continue to aid us as we make a gradual and limited return to campus.
Jodi Pluchinski, Director of Safety and Health Services, has been in the thick of our emergency response and is a leader within the Incident Management Team.
"A big part of my role is working with my colleagues across the College to help ensure our people and campuses are safe. Our Incident Management Team has been instrumental as we strategize on how to move through this pandemic," says Pluchinski.
The Incident Management Team uses an Incident Command Structure, with employees assigned to different functional areas including planning, logistics, operations and finance. Following this structure has allowed the team to make informed decisions swiftly and pivot where needed as the pandemic unfolds.
Re-opening campuses
The Province of Manitoba's Restoring Safe Services Plan now allows limited access to education facilities for hands-on learning, as long as strict physical distancing, sanitation, and other public health requirements can be maintained.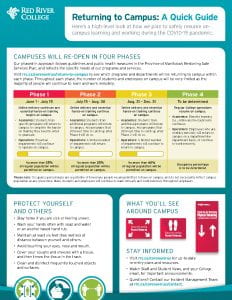 Red River College campuses are re-opening in four phases, and this approach reflects the specific needs of our programs and services. Throughout each phase, the number of employees and students on campus will be very limited as the majority of our people will continue to work and learn remotely. Phase 1 is already underway and Phase 2 begins on July 15.
"We're happy we've been able to restart academic activities on campus, with priority being given to students whose learning was disrupted earlier this year and who need to complete critical industry training in order to graduate," says RaeAnn Thibeault, Executive Director, Academic.
A cohort of international Health Care Aide students has already returned to campuses to complete skills training, and some aviation industry training has resumed at our regional Stevenson Campus. A small number of employees have also continued to work on campus during the pandemic to perform essential services.
While this is all good news in an uncertain time, COVID-19 is still present, and we must continue to take precautions to reduce our risk of contracting and spreading the virus. The Incident Management Team has also been hard at work creating a mandatory COVID-19 Orientation for all employees and students, as well as a COVID-19 policy that will be ready before we move into Phase 2.
Staying safe
Our Safety and Health Services team completed extensive occupancy assessments across all campuses and a deep cleaning of all common spaces. Signage, floor markers, hand sanitizing stations, and more will be in place to guide and direct the flow of people into, through and out of our campuses before Phase 2 begins.
"Occupancy assessments took an incredible amount of time and resources, but we're so impressed with how it's all come together. We've followed public health guidelines on physical distancing to ensure we know how many employees and students can be in a space at any given time," says Pluchinski.
The team is also working closely with our regional campuses to develop re-entry plans that support the delivery of services within each community. The College is moving at a fast and furious pace within our new reality, but Pluchinski reinforces how the safety of the College community remains top priority.
"Information continues to change daily, but when it does, we're quick on our feet and able to adjust our plans to help keep everyone safe. I can't say enough about the collaboration taking place between the Incident Management Team and all areas across the College. Our partnerships will only enhance the safety and health program at Red River College."
A look at the numbers
1.5 million square feet has been mapped out for safe occupancy assessments.
Employees have spent over 2,000 hours and counting working in the Emergency Operations Centre to support our response and re-entry planning.
We received and responded to more than 1,100 inquiries to the safety@rrc.ca email account at the onset of COVID-19 and that number only continues to grow.
Over 1,000 hours have gone into planning and developing a safe on-campus flow strategy.
Over 100 laptops were coordinated and distributed to students who didn't have one at home so they could complete their studies.
More than 30 office ergonomic assessments have been completed virtually, and we continue to respond to inquiries about home office ergonomics.
The Incident Management Team meets once a week and stays in regular contact using Microsoft Teams.
What academics will look like for Fall 2020
An online directory of RRC courses and how they will be delivered in Fall 2020 to new and returning students is now available at rrc.ca/coronavirus/return-to-campus/delivery-methods.
The College has developed a new Flexible Online Delivery Model to ensure Red River College continues to provide the highest standard of learning while also meeting the requirement for physical distancing caused by COVID-19.
This model will also allow for the delivery of hands-on learning where it is deemed essential. Our fall term will be proceeding under these guidelines. Please see our updated website for more information on a program by program basis.
As always, stay up to date on our plans for re-entry by visiting rrc.ca/coronavirus/return-to-campus.