What to expect when you return to campus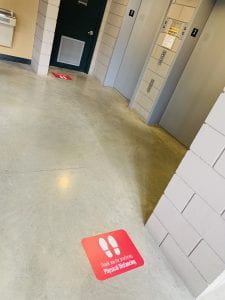 As we advance through Phase 1 of our campus re-entry, a very limited number of staff and students may be returning to campus for catch-up teaching and learning, or to provide essential services.
Important Reminder: If you are permitted to teach, learn or work at any of our campuses, you must follow the steps outlined on our Before You Return to Campus guide.
As you walk throughout campus, you may notice the following physical distancing measures in place to help keep you safe:
SIGNAGE
Posters with messaging such as "Please wait here" will be posted around campus near washrooms, elevators, microwaves, etc.
FLOOR MARKERS
Floor markers are placed six feet apart to comply with public health requirements. Please watch for these markers as you approach service desks, bathrooms, elevators, classrooms, etc.
PHYSICAL BARRIERS
In some spaces, you will encounter barriers similar to those you may have seen in grocery stores or banks. Please follow any directions provided by staff when you approach a service window.
CAUTION TAPE
Caution tape has been used to mark off common areas and classrooms with restricted access or seating throughout the College. These areas have been deep cleaned and cannot be used at this time.
These and other measures, including hand sanitizers throughout our buildings and near front entrances, are being installed now and will be in place by July 15, when we begin Phase 2.
COVID-19 is still present and we still need to take precautions to reduce our risk of contracting and spreading the virus. These measures have been put in place to enforce physical distancing and help maintain the cleanliness of campuses.
We are updating our Return to Campus webpage with important information about our phased re-entry on a regular basis — please check back often.